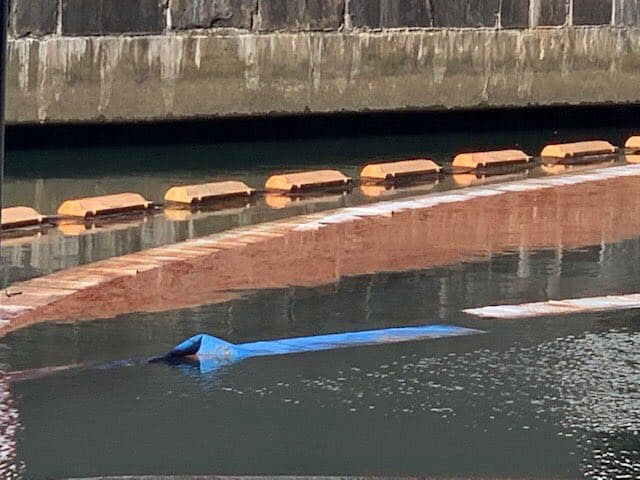 A red oil sheen is visible at the Jones Falls outfall.
Photo: Baltimore City Fire/Twitter
Oil Spill Under Investigation in Baltimore Harbor
A fuel oil spill in Baltimore's Inner Harbor covered the water into an eerie red sheen Saturday, prompting a big environmental emergency response.

The Maryland Department of the Environment (MDE) estimates 50 gallons of red-dyed #2 heating fuel oil spilled into the outfall of the Jones Falls at President and Pratt Streets. The Baltimore Fire Department worked with MDE and a U.S. Coast Guard contractor to help contain the spill.

On Saturday the Coast Guard contractor used a vacuum truck in an attempt to recover some of the fuel. MDE deployed a 100-foot-long piece of floating sorbent material to the spot where the Jones Falls emerges from underground, near Port Discovery and Power Plant Live. That should "help determine whether there is additional oil coming down the falls," MDE spokesman Jay Apperson tells Bay Bulletin.

MDE says it doesn't know the source of the spill.
And they are unlikely to spend a lot of effort trying to find out where it came from, since the fine for spilling a barrel of oil (30 gallons) is about $1,000. They would spend that much money before they spent a day in the field looking.