I thought I had an easy morning, until I got to this post at Doug Ross:
Larwyn's Linx: Explosive: New Evidence of Weissmann/Mueller Entrapment Scheme
, which had a whole load of new material.
Starting with the Barr contempt matter, Elad Hakin at the Epoch Times outlines why
Contempt Enforcement Against William Barr Will Face Hurdles
, which misses the point that to do it is simply revenge for Holders contempt, and general pissiness over the failure of the Mueller Report to "get Trump". Michael McConnell at NR tries to explain the difference between Holder and Barr in
William Barr vs. Eric Holder: A Tale of Two Attorneys General
. Basically, Barr is upholding the law, while Holder was bending it. More at WaFreeBee in
When Democrats Were Against Holding the AG in Contempt
. At American Greatness, Adam Mill explains
Nadler's Contempt
:
Thus, it is with considerable embarrassment that Nadler now flops about like a fish finding that the waters of the friendly "Get Trump" legal environment are receding. If you read the House Judiciary Committee's vague explanation of the contempt citation, you find that balloon inflated with hot air so it can float above the dangerously sharp underlying facts of the case. Lest the true motive of revenge become even more apparent than it already is, obfuscation is required.

Still, it boils down to this: Barr isn't following the "Get-Trump" playbook and for that he must be punished.
But, of course, it won't end with Barr (WaEx)
McGahn, Mnuchin, Mueller: House Democrats target more administration members for contempt
. Now they just have to arrange a crime to fit. Nice Deb at AmGreat,
Adam Schiff: We May Fine Trump Officials $25,000 a Day for Evading Subpoenas
. And just who enforces those? I'm guessing the DOJ. . .
At CTH, Sundance explains,
Chairman Nadler "Negotiating" for Mueller to Testify….
According to Reuters, House Judiciary Chairman Jerry Nadler is negotiating terms for special counsel Robert Mueller to testify before the committee… [I doubt this].

In my opinion, no-one in DC wants Robert Mueller to testify because they know Mueller was/is purely a figurehead for a corrupt investigative enterprise that was simply an extension of the 2016 DOJ and FBI effort.
In a bit of news,
Attorney General William P. Barr Announces Edward O'Callaghan As Acting Deputy Attorney General
. I guess that means we really don't have Rod Rosenstein to kick around anymore.
Julian Zelizer at WaPoo, (
secret
code
) whines
Democrats are complicit if they don't impeach Trump
, and Bill Maher tells Democrats to shit or get off the pot,
Bill Maher To Democrats: Impeach Trump Or Stop Talking About It
And on to spygate:
IG Horowitz Has 'Concluded that the Final Three FISA Extensions Were Illegally Obtained,' diGenova Says
, which potentially puts a number of people (including Andy McCabe, James Comey and Rod Rosenstein) in some legal jeopardy. S. Noble
Comey's "in big trouble!" IG might find all 4 FISA warrants were illegal
. PoliticalShort explains
FISA Court, Woods Procedures And Carter Page
and asks
How did the FBI not violate the Woods Procedures when it presented unverified opposition research paid for by the opposing party — the "Steele dossier" — to the Foreign Intelligence Surveillance Act (FISA) court to obtain a warrant to spy on an American citizen for over a year
Sundance has the video,
Devin Nunes Discusses James Comey Recent Comments….
Sundance also explains in detail,
EXPLOSIVE – FOIA Documents Show Evidence of Weissmann/Mueller Entrapment Scheme…
It's long been assumed that somebody in the intelligence community set Papadop up with $10,000 k to make it look like he was violating FARA etc in Cyprus. The FOIA show that Andy Weissman just happened to be traveling to Cyprus at the time on FARA business:
6/8/17 US intelligence asset Charles Tawil gives George $10K cash in Israel
6/9/17 George Papadopoulos flies to Cyprus w $10K
6/13/17 Andrew Weissmann starts series of "Cyprus MLAT" meetings with FBI
6/13/17 Andrew Weissmann phone call w/ FBI Money Laundering and Asset Recovery "MLARS" section of FBI.
On July 27, Papadop flew into Dulles, where he was greeted by FBI agents with no warrant, apparently looking for the $10k (which he left with a lawyer in Greece). Not finding the $10 k, they interrogated him for many hours, until they found an inconsistency with which to charge him with lying to FBI.
The only way DAG Rosenstein and Robert Mueller didn't know about the operation is if they both claim that Andrew Weissmann was completely rogue and in control over the FBI agents.
Just another question for Mueller at his hearing. At Redstate,
Giuliani: "Massive Collusion" Between DNC, Obama Admin, Clinton People & Ukraine To Create False Info About Trump
Sharyl Attkisson.
The Government Spied on Me. You Could Be Next.
Dan Bongino roasts Jim Comey,
Comey: "Totally Normal" to Plant Undercover Sources in Political Campaigns
. Who was the mole in the Clinton campaign?
The evidence is mounting that Comey deceived the FISA court concerning the Steele dossier. State did a quick verification and threw Steele out. Comey did no verification for 5 months and conducted an illicit SPYING OPERATION. Let's see how long Dem media protects Comey.

— Rudy Giuliani (@RudyGiuliani) May 9, 2019
Still more from Sundance at CTH,
Graham Sends Letters to Horowitz and Pompeo – FBI Backtracks on Self-Serving Redactions…
FBI has apparently reversed course on the self-serving redactions they put in place when the Kavalec Memo was released. A less redacted version is below . .

Apparently the Russian "mole" in the DNC didn't warrant the investigative curiosity of the FBI. Instead, they took the sketchy dossier info and called Carter Page an "agent of a foreign power"…. Go figure.
Hmm, did Barr lay down the law? And still more,
Roger Stone Questions DOJ on Predicate of Russia DNC Hack…
. The Mueller Report assumes the Russians hacked the DNC, but have no direct evidence, since they never examined the DNC servers themselves, instead relying on a "copy" provided by CrowdStrike, a DNC contractor
The first filing is a motion to compel [SEE HERE] and requests the DOJ provide unredacted documents to support their framework of evidence that Russian's "hacked" the DNC. The second filing is a motion to suppress [SEE HERE] any downstream evidence, extracted by the use of search warrants, built upon upon the predicate claim of Russians "hacking" the DNC.
It probably won't work, at least initially, but it ought to be good enough to appeal a long way up.
Marc Tapscott at the Epoch Times,
Obama White House Knew About Clinton Emails Years Earlier Than Previously Admitted
, and knew it was being used to dodge FOIA, too. Which is one of the reasons Comey declined to prosecute Hillary.
Don Surber suggests
Obama judge ready to pounce on Trump
CNN reported that federal Judge Amit Mehta has fast-tracked President Donald John Trump's lawsuit against Congress, which seeks his private financial records. The cable channel said he is "putting the case on an even faster track than it previously looked to be."

Welcome to hyperspace justice.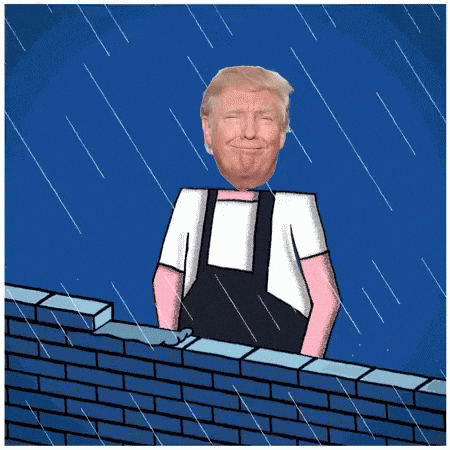 Also,
Mueller Report in, wall going up
"The Pentagon has approved a plan to spend an additional $1.5 billion to build 80 more miles of wall along the U.S.-Mexico border, a U.S. defense official confirmed to Fox News Friday.

"Acting Defense Secretary Patrick Shanahan approved the re-allocation of funds, which were originally earmarked for support of Afghan security forces and other projects, to help pay for the wall along the southern border."

I heard nary a peep of protest from Democrats.

They are defeated, vanquished, and bewildered. It was not supposed to end this way. They bet everything on that Mueller Report, hoping not only would it undermine Donald John Trump's legitimacy as president, but also cover their tracks as they used the
National Security apparatus to spy on The Donald and his campaign.

But President Donald John Trump was undeterred in his quest to cut regulations, appoint honest judges, get NATO allies to increase defense spending, rewrite NAFTA, end the health insurance mandate, cut personal taxes, cut corporate taxes, and build that wall.

And now the report is in. It's empty. Democrats are helpless to stop him.

They could not even find a judge among the hundred or so district judges Obama appointed to stop the Pentagon from securing the border.